Seahorse Snack Bag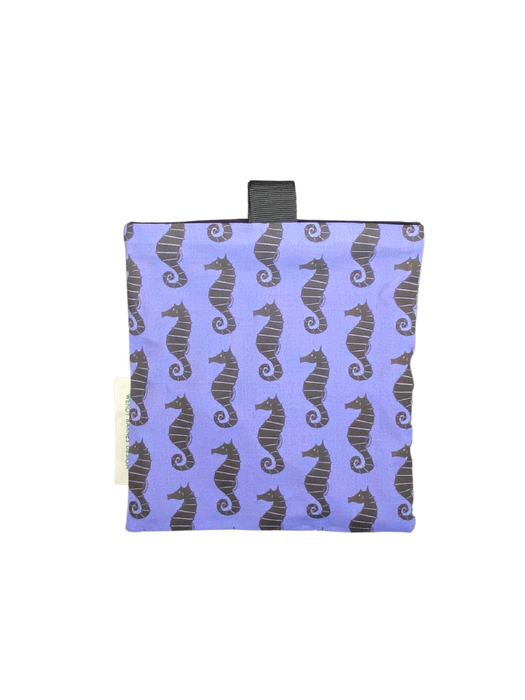 From Wendy Barnes Design - Not only convenient, reusable Snack Bags are protecting wildlife while you enjoy your chips. Most of us are familiar with and now avoid the obvious single-use plastic bags from stores but what about single-use snack/sandwich bags at home? You can do a whole lot of good for our world AND save money by making this switch as well. More pats on back for you, less baggies found in wildlife's bellies. True story.
Details:
Each handmade premium bag with designer fabrics measures 6.25"W x 6.5"H and comfortably holds snacks and standard size sandwiches.
Easy-open signature slimline Velcro closure is kid-tested with pull loops to open for small fingers and tiny muscles along with low noise for quiet places!
The pull loops also allow you to clip to another bag for easy access.
Machine washable cotton with water resistant eco-friendly lining (think strawberries!), these can be tossed in the wash or simply pull out the lining and shake or wipe for a quick refresh.
Certified food-safe lining tested lead-free, BPA-free, PVC & phthalate-free, so you have no worries about what your food is touching that you can't even pronounce. Those plastic baggies in boxes are made for single-use. Sometimes we try to do good by reusing them however that kind of plastic breaks down quickly and unfortunately can do more harm for you than good.
Proceeds from the sale of these will go to No Stomach for Cancer to help fund the work they do with patients and families.